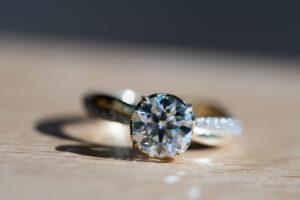 The channel setting in rings is a popular option among people who prefer better protection for their gemstones. Like the pave setting, a channel setting also features small diamonds or other tiny gemstones set on the band of the ring. Hence, this setting can offer a luxurious look to your engagement rings. Additionally, the small diamonds can add an enhanced elegance and sparkle to your ring.
The channel setting can be used for both engagement rings and wedding bands. Hence, you can create a stunning pair of rings that complements each other by choosing this particular setting.
The channel setting comes with several benefits and drawbacks. If you are planning to get this ring for your engagement, then make sure to learn about its pros and cons to determine whether it can be suitable for you.
Benefits Of Channel Setting
Apart from the stunning sparkle and extravagant look, you can get many other merits by choosing a channel setting. Some of the advantages you can get by choosing this particular ring setting are mentioned below:
It Can Offer Better Protection For The Gemstones: Even though the channel setting might look similar to the pave setting, as both of them come with stones embedded in the ring's band, there are significant differences between them in terms of how the stones are set. A pave setting usually holds the stones using small prongs, however, the small natural or lab grown diamonds are arranged between a metal strip in the channel setting.
This setting does not expose the girdle of the diamonds. Additionally, it can offer better protection for stones like princess diamonds that come with sharp corners, as the pointed edges will be arranged inside the channel. Hence, the channel setting can prevent the chipping and breaking of your diamonds efficiently.
Can Be Perfect For People With An Active Lifestyle: In a channel setting, the stones won't protrude out of the band. Additionally, as there are no prongs, you don't have to worry about this ring catching on your everyday things. Therefore, it creates a perfect option for people who work with their hands a lot.
Drawbacks Of Channel Setting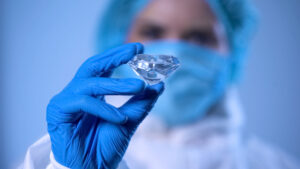 The following are certain problems associated with the channel setting that you should be aware of if you are planning to choose this setting for your engagement rings:
Difficult to clean as the dirt can get trapped deep into the channel
Hard to resize and tricky to repair
Reduce the visibility of the gemstone
So before getting a channel-set ring, make sure that you know its benefits and drawbacks.