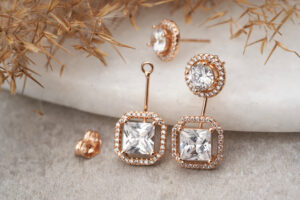 Cleaning your diamond ring regularly is necessary to keep it looking new, but don't rush to the jewelry store for polishing every time you feel like your lab-grown diamond isn't shiny. Also, contrary to popular belief, do not clean your diamond ring with baking soda or toothpaste. They tend to remove a small of metal each time, resulting in damage and destruction of your valuable jewelry, particularly the prongs of gemstones and diamonds, as well as an increased risk of them falling off.
Here are some of the tips that will help you to keep the shine and brilliance of your lab-grown diamonds intact.
Keep It In A Padded Box
If you keep your lab-grown diamonds in pretty tough boxes or with other sharp jewelry, they can get scratched or chipped. To fully preserve your diamond jewelry over time, keep them separated in their padded box. Metal boxes should be avoided if possible.
Use Only A Soft Toothbrush To Scrub The Diamond
Remember to rid the dust from lab-grown diamond rings using a soft brush. Scrub the ring softly all around the diamond with a cleaning agent or gentle liquid soap like those used for rinsing woollens that don't have any moisturizers or harsh chemicals. To thoroughly wash the diamond ring, making use of a gentle liquid soap together with warm water is highly recommended.
Don't Store Lab-Grown Diamond In Places That Are Too Humid Or Dry
Do not store your diamond ring in a very dry and dark location for an extended period, as this may cause the gems to discolor. Humidity, too, is bad for diamond jewelry, as it tarnishes it. Cleaning should be done with extra caution if you reside in a humid environment.
Use Your Cleaning Solution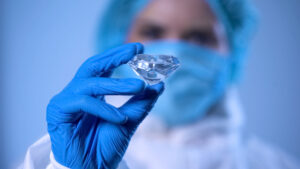 You can also soak the lab-grown diamond ring for 30 minutes in a solution made of equal parts water and ammonia. Rinse thoroughly, then pat dry with a gentle cotton cloth. Before wearing or putting away your ring in a box, make sure it is completely dry.
Avoid Wearing The Ring On Sweaty Fingers
When trying to exercise and doing other activities that produce sweat, avoid wearing your lab-grown diamond ring and other jewelry. Sweat tarnishes some types of jewelry, particularly artificial pearls. When the sodium from the sweat dries on the jewelry, it discolors it. Metal surfaces become dull as a result of the sodium build-up over time.