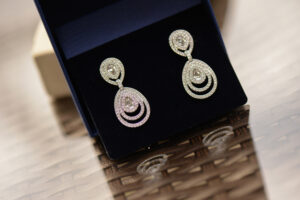 Rings that come with side stones are a popular option among brides. Three-stone and five-stone settings are the popular ring settings that come with side stones. These settings can enhance the appeal of your diamond rings by offering some extra sparkle.
There are some important factors that you should consider when choosing side stones for your ring. Some of them include:
The Number Of Side Stones
You can choose the number of side stones based on your likes. But 3-stone and 5-stone settings are the commonly preferred options among engagement rings. The three-stone setting comes with a center stone and two side stones, whereas, the number of side stones will be four for a 5-stone set ring.
It is better to choose even numbers for your center stone to maintain the symmetry of your ring. The number of side stones is up to your personal preferences. But keep in mind that, the complexity of your setting will increase based on the increase in the number of side stones. More number of side stones means your ring has more fine parts that might have to be repaired in the future.
Size Of The Side Stones
It is better to keep the size of the side stones slightly less than the central stone. This helps to ensure that these stones won't compete with your center diamond. When smaller side stones are set on either side of the center stone, they can enhance its brilliance and shine. Hence, side stones can greatly contribute to the overall appeal of your ring.
But make sure to avoid getting very small side stones in comparison with the center stone, as your ring can look out of proportion.
Color Of The Side Stones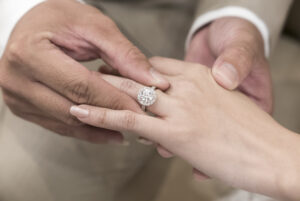 If your center stone is colorless, then go for the same color grade as the central diamond when getting side stones. Otherwise, the color mismatch that occurs can diminish the beauty of your ring.
But it is not always necessary to choose colorless side stones even if your center diamond is colorless. You can try diamonds or other gemstones that come in other colors like blue, green, yellow, etc. so that you can get a stunning contrast for your ring.
Clarity Of The Side Stone
Go for eye-clean diamonds when choosing the clarity grade of your side stones. This can help to ensure that these stones do not have any visible inclusions that can affect the appeal of your ring.
If you prefer side stones for your ring, but they are too expensive for your budget, then consider getting lab grown diamonds that can be cheaper than natural stones.