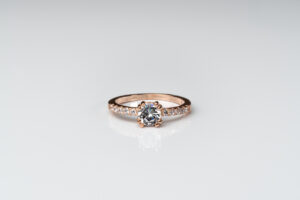 The bar setting is a versatile setting that can be used for both engagement rings and wedding bands. It creates a stunning option for your engagement rings, as it offers better protection for the stone without compromising its brilliance and shine. Therefore, this setting can be seen as a combination of prong and channel setting.
The bar setting has its own benefits and drawbacks. It is important for you to know the pros and cons of this ring before choosing it for your engagement. Hence, we list some of the important things you want to know about this ring setting.
What Is Bar Setting?
In a bar setting, the diamond will be secured using vertical metal bars. Only two sides of the stone will be covered by the channel, hence, it leaves ample space for the light to enter the stone. Hence, it can enhance the brilliance and sparkle of the ring. Additionally, the vertical bars can protect the diamonds from damage to a great extent.
The bar setting is almost similar to the channel setting, however, it lets in more light than the latter thereby making your ring shinier. This setting is commonly used for wedding bands and eternity rings. Additionally, it can also be used for engagement rings including three-stone settings. Therefore, you can create an engagement ring and wedding band that complements each other by choosing the bar setting.
Pros Of The Bar Setting
The channel setting is highly versatile as it can be suitable for center stone designs, stackable rings, as well as simple bands.
Makes the diamond more visible when compared to channel and bezel settings
Provides better protection for the stone when compared to prong settings
As it allows more light to enter the stone, the brilliance and sparkle of your natural or lab grown diamonds can be enhanced
Cons Of The Bar Setting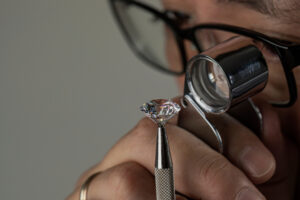 As it exposes the sides of the stone, there is a slight chance for them to chip when a hard force is applied
Slightly less secure than the channel and bezel settings
Resizing your bar-set rings can be costly and sometimes very difficult, especially, if they have stones covering the entire the band
So if you want your rings to offer both protection and visibility for your stones, then the bar setting can be a great choice for you. It can be a unique choice when compared to channel and prong settings. So if you are looking for a unique and versatile ring setting, then it is better to go for the bar setting.