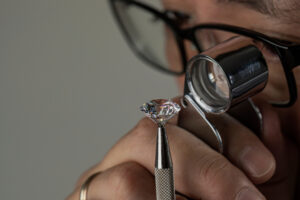 Musician Travis Barker popped the question with an elongated oval diamond set in a ring band. Barker's fiancée Kourtney Kardashian is the latest celebrity to wear an oval-shaped diamond on the engagement ring finger. She joins a long list of celebrities who have done so, including Ariana Grande, Serena Williams, Blake Lively, and Hailey Bieber.
Oval diamond rings are getting an increase in customer interest. As per Google Trends, it has been the most-searched engagement ring diamond shape over the last five years. Besides, many customers request jewelers to custom-make lab-made oval diamond or natural oval diamond engagement rings. It is surprising, because the GIA estimates that 70% of diamonds traded now are round-shaped stones.
So, why are oval diamond engagement jewelry pieces getting such public interest? One possible explanation has to do with the fact that many celebrities wear it.
Varieties of this elongated diamond shape have been around for centuries. For instance, a signet ring commonly features the oval stone because there is enough surface space on it to serve as a family symbol.
In the 1980s, one of the most popular people, Princess Diana, owned an oval diamond engagement ring. It featured not only a 12-carat diamond set in a white gold band but also the diamond halo setting. In the 1980s and 1990s, the popularity of oval diamond and diamond cluster rings skyrocketed. Back then, a large number of people shopped for engagement rings that resembled Princess Diana's jewelry piece.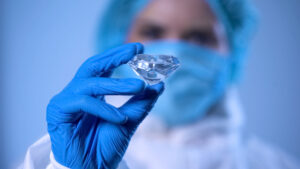 In the 1990s and 2000s, customer interest in this diamond came down from the high days of Princess Diana. However, it came back to the global spotlight as Prince William popped the question with it. A series of other celebrities proposed marriage to their partners with oval diamond rings since then. This partly explains the popularity of the cut among customers.
When a diamond is cut into this shape, it will offer more coverage and make the gemstone appear bigger. Even the GIA agrees with the above-mentioned. As per the GIA, because it has a much larger surface space as compared to a round brilliant diamond of the same carat weight, the stone appears larger. For the same reason, it can cause the wearer's finger to appear longer. There are no sharp corners or angles in an oval-shaped diamond, so it is less likely to chip than other fancy diamond shapes.