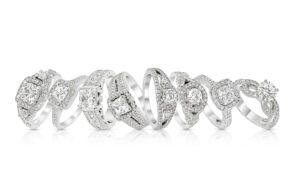 Fine jewelry made with colorless stones is a favorite choice of many people. As opposed to the common belief, there are various options to choose from colorless stones, other than the highly expensive natural colorless diamonds. Engagement rings made with colorless stones, stand-alone, or in combination with other colored gemstones are gradually gaining traction in the engagement ring sector. Let us take a brief look at some such options.
Colorless Diamonds – Treated
Treated colorless diamonds are a great option for those who like jewelry with classy colorless diamonds, at an affordable price. These are natural mined diamonds treated in the laboratory to remove inclusions, making them look more beautiful than they originally were. For diamonds with hard-to-remove inclusions, treatments are done in laboratories to reduce the impact of the inclusions on the brilliance of the diamond. The resultant diamonds look shinier but cost much lesser than their untreated, expensive counterparts.
Colorless Diamonds – Lab-Made
Lab grown diamonds can help save you money on fancy colored and colorless stone options. They look the same as natural diamonds and can only be identified with the help of expert gem lab analysis. This option helps you make budget-friendly buys or go for bigger-sized stones for the same price you had set in mind. The brilliance and quality of affordable lab-grown diamonds are unmatched, which makes them a smart buy.
Colorless Gemstones – Natural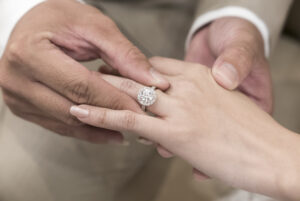 Colorless variations of natural gemstones like sapphire and zircons have been in use for a long time as good diamond imitations. These gemstones have physical and chemical characteristics that are entirely different from that of natural colorless diamonds. However, they can approximate the appearance of natural diamonds with the use of expert cutting methods. Earlier, zircons were mostly used as diamond substitutes in jewelry. Colorless or white sapphires have recently become the favorite choice as diamond substitutes. People who are sentimental about the origin of their precious stones can go for natural colorless gemstones like sapphire and zircon to be used in their jewelry as affordable diamond substitutes.
Moissanites
Lab created diamond lookalike, moissanite, is gaining popularity as a convincing substitute to natural or lab made colorless diamonds in most jewelry. These stones are fairly inexpensive when compared to the other options of colorless stones. Buyers can opt for large stones in their favorite cuts at reasonable prices when they go with Moissanites.
The choice of the kind of stone they want on their jewelry is entirely the buyer's choice. With so many options to choose from, it is no longer difficult to find a colorless stone that best fits your criteria.